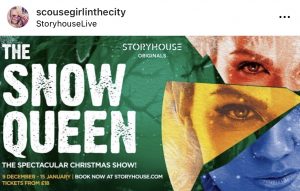 A fantastic spectacle full of out of this world costumes and amazing performances by a wonderful cast. This is truly a one of a kind show that's not to be missed and you still have till the 15th of January to see it! So hurry!
Adventure to the mystical, frozen north in this unforgettable tale that celebrates the power of family and friendship. Join little Gerda on her epic journey through the seasons to save her best friend Cei from the icy clutches of The Snow Queen. Meeting many an interesting character along the way!
The Snow Queen herself played by Lucy Tuck dazzles from beginning to end. We are instantly thrust into the heart of this magical tale with the opening scenes being visually breathtaking in costume design, set, lighting and performance. The projection of the Snow Queens Icy demeanour combined with the extravagant fantastical costumes and visually spectacular landscape made it so awe inspiringly gripping that my son who's 4 could also not take his eyes from the stage either! The actual story is such an amazing tale. One written by Hans Christian Anderson. It is enchanting and bewitching all at the same time! Two other of my favourite performances I have to mention are that of Gerda played by Rosemarie Akwafo and Cai of course! Played by Taona Matope. Both characters are central to the story and they are the glue that holds the whole symbiotic performance together! Each part of the story flows like a river into the next and carries the audience along with it so effortlessly. I thought that the way the seasons are encapsulated in the story by being given human characteristics was so clever and it brought so much magic and charm to the who fantastic and wondrous tale.
This is a fairytale to be watched by adults and children alike with both big and small viewers being as wowed and spellbound as each other. You'll walk out with a little more magic in your eyes than you walked in with just make sure non of the snow queens shards of glass get in there first!
4 Stars ⭐️⭐️⭐️⭐️