Luna 13, Bass Metal pioneers who were co-support for Christian Death, Suicide Commando and Hocico in the last few months will be headlining the first Para-Con (Paranormal Convention) in Plattsburgh NY October 22 2022.
Luna 13 didn't just co support, they made a ruckus laying down a new genre of blackened music. It seems to be a fit as Luna 13 has a deep history with the occult and the majority of their lyrics belted out by horned frontwoman Lilith Bathory are on the dark side of things.
This 3 day event is sponsored by *Paraflixx *These Curious Times Network *Gem Goddess Emporium

Luna 13 was recently billed by 50 Cent's magazine as the next breed of Metal. Here is what ThisIs50's "Hardcore Flava" had to say about Luna 13's live performance at the Artifice in Las Vegas.
"Luna 13 was hypnotic, trancelike, tormentingly dark, yet you couldn't look away. It took but 45 seconds to realize I was listening to an upgrade of sound and sonically one of the most powerful sounds I have heard. Their theatrics were not campy at all and put you in fear a little. Dr Luna looks like he's cutting through meat and Lilith Bathory's dark beauty makes the darkness flow in a highly entertaining way. Being that 'hip hop' and 'bass' are my thing I could hear incredibly powerful 'saw bass' lines and heavy distorted 'acid bass' mixed into Black Metal in a way that works. They nail this merger through the application. Both Metalheads and Bassheads had their mouths hanging open and some people were banging their heads. Man do they put on a show! Luna 13, a new brand of Metal, gets my vote. Luna 13's Black Bass Metal is more than likely going to pave the way for some new, much needed energy in the music scene and you have to see this live. It's life altering. "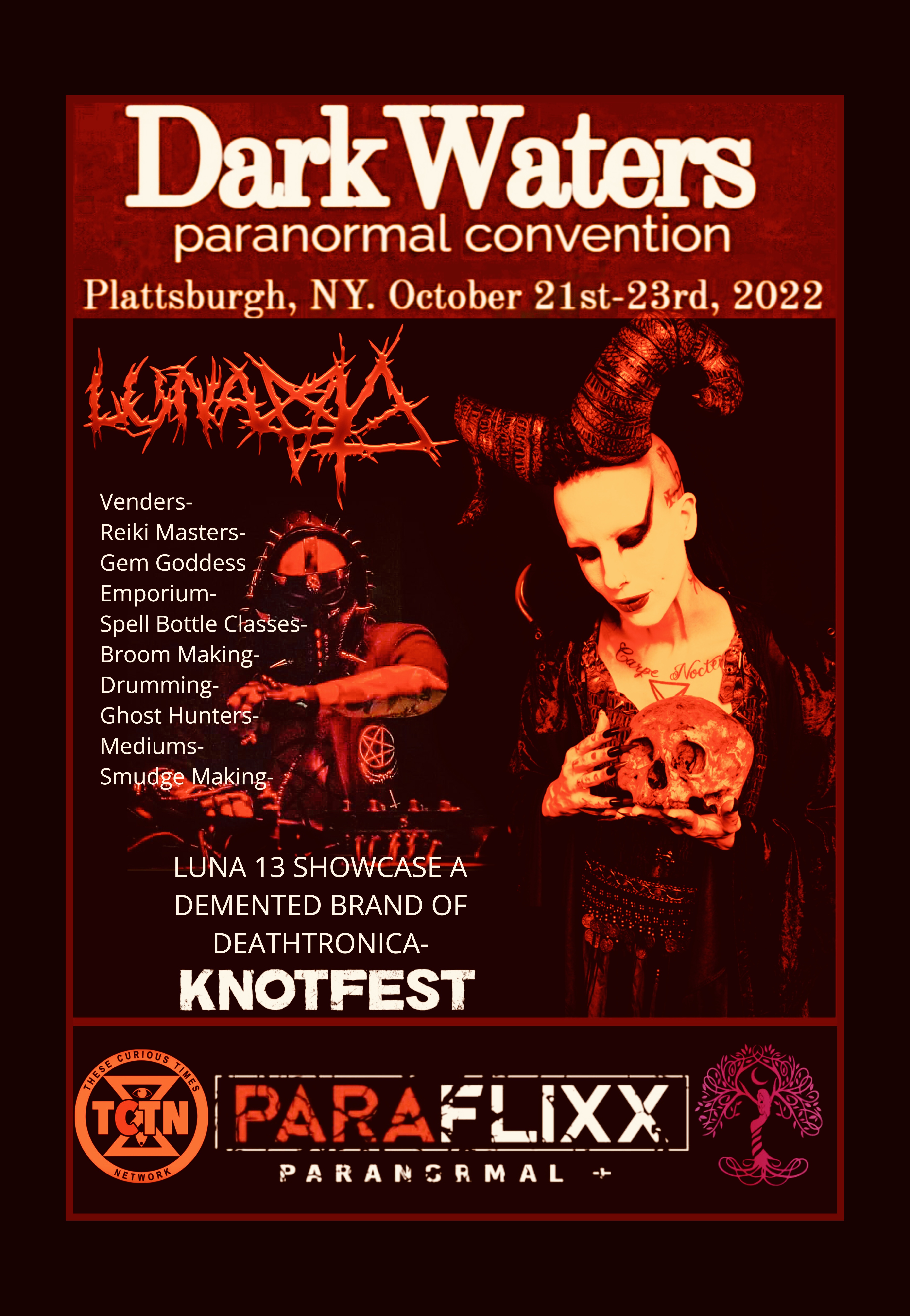 Here is the Itinerary for the 3 day Para-Con event!
Celebrate and explore Upstate New York's haunted history and paranormal phenomena in the city of Plattsburgh, NY! A 3 day event taking place across the city with haunted stops, speakers, and happenings along the way!
Friday, October 21st.
Convention at West Side Ballroom
4:00pm-9:00pm
Vendors, Reiki Masters, Small Businesses and gore! West Side is the main "hub" for Darkwaters Para-con. Snack bar, local boo-ze, and horrors available for your browsing pleasure.
Classes at Gem Goddess Emporium
4:00pm-5:00pm
Smudge Making with Sarah
5:30pm-7:30pm
Kids Time with Amy from the Northern Tier Pagans (Crafting & Stories)
Monster Mash at Valcour Brewing Co.
8:00pm-Midnight
Darkwaters' VIP Bash, hosting all of your favorite, creepy folk from the Para-con, and you! Grab your costume and get ready to dance the night away in Plattsburgh's favorite, historically haunted brewery. Trick or treat yo-self with Valcour's multi-award winning brews, and howl at the moon on their outdoor patio! Live, Undead DJ, Costume Contest, and, of course, gore!
Saturday, October 22nd.
Convention at West Side Ballroom
10:00am-6:00pm
Second day of our vendors, reiki masters, small businesses and gore!
Speakers from far and wide gather to teach about hauntings and paranormal. Everyone from experienced
ghost hunters and mediums, to satanists and exorcists!
Snack bar, local boo-ze, and horrors (still) available for your browsing pleasure.
Classes at Gem Goddess Emporium
10:30am-11:30am
Creating a Crystal Grid with Kat
12:00pm-1:00pm
Spell Bottle Making with Kat
1:30pm-2:30pm
Besom (Broom) Making with Nate from the Northern Tier Pagans
3:00pm-4:00pm
Body Movement and Drumming with Kitty
5:30pm-7:30pm
Intuitive Readings with Shanelle Lashway and Joanne Beaudry
Metal Show at Monopole
8:00pm-Midnight
-Headliner, Luna13
"A compelling marriage of black metal aesthetic, bass-heavy electronica, and industrial antagonism", Luna 13 hails from Joshua Tree, California, and has been noted as "the scariest band to ever perform on stage" by the Whisky ago-go. Currently being advertised by KNOTFEST, Luna13 will be crushing the speakers at Monopole at their final show before heading back to the west coast.
https://linktr.ee/luna13official
-Fathom Farewell
The coolest dudes anybody ever did meet from Rhode Island, FF brings depth to the rock/metal genre beyond the confines of its articulate instrumentation and vocal presence. With a variety of influences from A Perfect Circle, Breaking Benjamin to As I Lay Dying, and Dream Theater. "Fathom Farewell can tots shreddy shred. Wait 'till you hear Alex, dude is gnar"-Shelby from DWP.
http://www.fathomfarewell.com/
-Embers
A 5-piece metal band from Plattsburgh NY featuring a wicked talented female lead. Forming during the End of the World, Spring of 2020, members of bands once alive came together to form the ultimate metal band, with a solid balance of talent, new age and classic screams. "This is the music you still listen to on all of your old CD's and wished was still around, and now it's back"-Shelby from DWP.
https://www.facebook.com/embersbandofficial/
Sunday, October 23rd.
Convention at West Side Ballroom
10:00am-2:00pm
Our final day of vendors, reiki masters, small businesses and gore! Go back and grab that thing you wanted yesterday, bring your grandma, and say goodbye to all of your new friends from DarkWaters Para-con until next year!