---
A spectacular extravaganza of Fairground Rides, FabulousFood and Fantastic Fireworks!

There are many Summer Fairs to visit throughout the sunny season but Formby Festival is definitely one of the more prominent ones for the calendar. It incorporates all our favourite elements we love so dearly when it comes to Summer Fairs. We have the obligatory Fairground which is a must for all of the fun loving adrenaline junkies. We have the ever expanding food and drink offerings which get better each year. As always there is something for everyone. Ranging from Peri Peri Chicken to Wood Fired Pizzas. You name it and they will have a vendor there selling it. There's a range of alcoholic options including some cocktail options which were simply delicious as well as a range of beers, wines etc. The foodie in me was very impressed by the vendors as there was so much on offer that your spoilt for choice with what to eat! I chose the Peri Peri Chicken which was packed with flavour and went down a treat with a couple of beers and a few of their Pornstar Martini's. I also tried their Mojitos! The best way to describe these would be "Summer In A Glass" and are a huge staple of the Formby Festival as I seem to remember having this particular drink year in and year out at this marvellous event.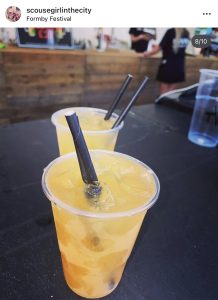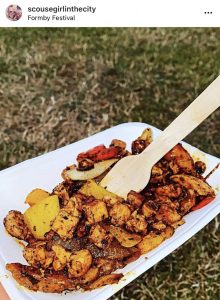 They had their usual craft tent full of unusual unique and wonderful items to purchase for the home, body and everything in between. I found a fantastic vendor selling bespoke jewellery were I created my own fringe earrings and bracelet from these wonderful trimmings that the lady and her daughter was more than happy to accommodate my vision with. I also found a bespoke Cat Bottle Stopper which I gifted to my mum from a marvellous Artist Vendor who works with Resin. My mum gifted me a photography experience from another great Vendor to have a portrait done with my partner and son which was a beautiful gift! There is so much to explore and browse at an Artisan Market/Craft Fair and this set-up at Formby Festival did not disappoint.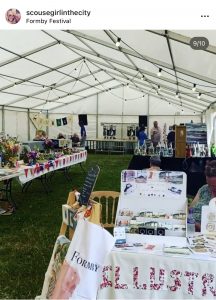 The spectacular Firework Finale they put on at the end of the evening! It was amazing watching fireworks on a warm summers evening. Especially such an elaborate and magnificent display! They went all out with this one! It certainly isn't one to be missed this year! 🎇🎆✨✨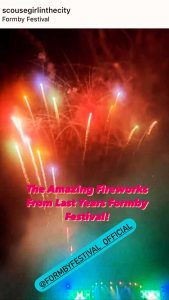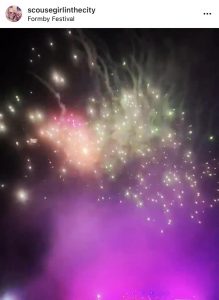 Here's the link to book your tickets for this weekend below 👇🏼 @FormbyFestival_Official
---