Reflections on life, death, revelation
We already know that Ultra_Eko can merge worlds and make opposites attract. Not just when it comes to the music that he uses to paint his musical pictures, the sonic hues that he blends to create the scenes and scenarios which make up his narratives. Before you even consider the complexity of the music you are greeted by a wealth of lyrics drawn from across the spectrum.
Like Alternate Realities before it, this album is a heavy blend of higher philosophies and street culture, conversational raps and religious raptures, social politics and calls to arms. One moment he is trying to change the world around him, the next he is just trying to understand it. It is full of analogy but also realism, everyday observation and ancient wisdom. Not so much conspiracy theories, more conspiracy realities.
And then you have to consider the music that these poised poetics run on. Generally he takes a range of urban sounds to build grooves – loose hip-hop beats and staccato electronic rhythms – but he also takes all manner of more cinematic motifs, from soothing piano to explosive samples, wide-screen electronica and sweeping synths to create some very original sonic intrigue within. The urban grooves might ground the music but it is those additional inclusions that provide the tone and texture which makes the album and the artist stand apart from the pack.
Revelation begins in suitably religious fashion with Dust to Dust, a track that naturally flows from the last track of Alternate Realities, Ashes to Ashes, a song building out of biblical musings into a sort of street-level application of those sacred words, the words flowing down the millennia from ancient writings to the man in the street and his struggle to find relevance and meaning in the modern age. But he does find meaning in these archaic parables and teachings, and the application of those understanding is at the heart of the album.
The great thing about Ultra_Eko is that not only does he have something to say, he also says it in such an interesting fashion. Many artists working in similar genres, trap, rap, hip-hop etc claim to be skilled with wordplay, but in reality, they tend to let you down in a blaze of hubris and self-aggrandisement, curse words and petty feuding. There is nothing so petty or pointless going on here. Far from it. And when he lays out his mission statement on Be Like Me, you realise that he does stand for something refreshingly different, mature and honest.
Intruder is a staccato and spacious diatribe on betrayal and covert underworld intrigue, Twisted Fate is a deft and dexterous lyrical flow that runs across nothing more than beat and atmospherics, but it is all that is required, and Pretty Girl reminds us that not everything that Ultra-Eko writes about has to be shrouded in mystery or contains deeper meaning, sometimes it can be as straight-forward as just a jolting and honest slice of social documentary.
Revelation builds its own world to exist in. It's our world too but it is also something more. It is a look into the stunted lives of those trapped in poverty and toxic relationships, those who turn to crime or just know that they will never manage to realise their dreams. But when you look at what lies in cracks between the chapters of those lives, look deeper into the shadows around the edges of the rooms that they live in, you realise that help is at hand and help is within their own hands. These songs remind us that the human condition has never really changed since we raised the first cities from the earth and that the power to change our own lives often comes from a change of attitude or understanding within.
I love spending time in Ultra_Eko's world, it is both too real and wonderfully fantastic, it is mundane yet heightened. Imagine if J.G. Ballard was just starting today and instead of reaching for the typewriter he instead opted for the synth, the sampler and the modern poetic form. Well, Revelations is exactly that.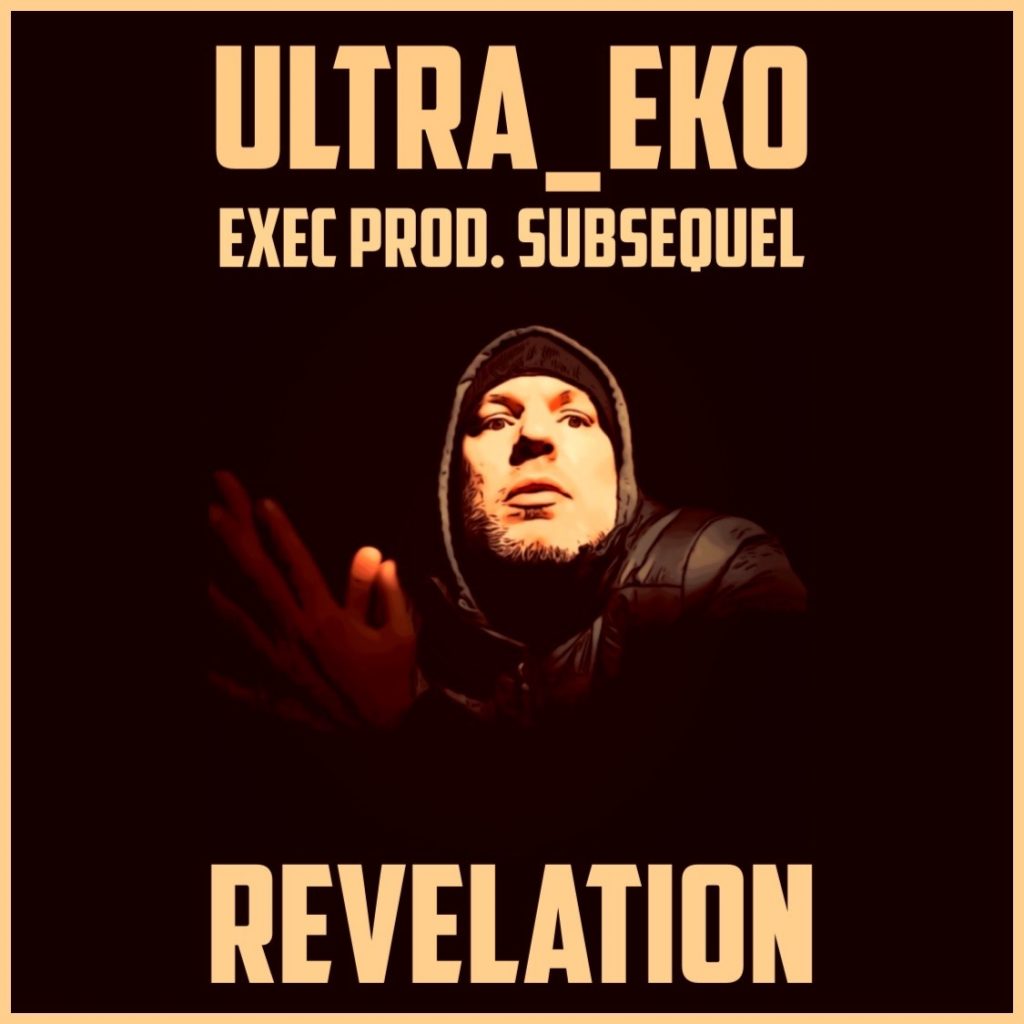 Ultra_eko's 'Revelation' is out Friday 25 th June

You can pre-save it here; https://distrokid.com/hyperfollow/ultraeko/revelation-2

Spotify:https://open.spotify.com/artist/5zVDRAXOdL6omOvhJ1Sa5Q?si=X5Ip_UovRoSV3_ ht58R3ZQ

Instagram:
@ultra_eko